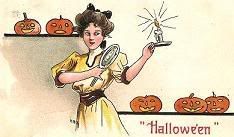 It's finally Halloween!
I've been waiting for this and it's all I expected and more. Lunch was FANTASTIC and the people here really went over the top.
The costumes were a great combination of silly, fun and awesome. We even got to go Trick or Treating! It is quite a silly sight seeing adults running around with bags yelling, "Trick or Treat!" at various doorways in an office building.
You know the best part though? Walking around doing your own work (knowing you're dressed in an odd manner) and seeing your coworkers walking around doing their business most seriously ALSO dressed in an odd manner! What a hoot!
I actually can't wait until next year!
~Alicia
Editorial Department
Tags: Costumes, Halloween, Kids Wish Network